I was thinking today about all the wonderful followers of my blog and how I wish I could invite each and every one of you to my birthday party.
But space being what it is and the fact that most of you don't even live near by and can't just drop everything and fly to Indiana for a birthday party of some random person you only know through a blog.....
I thought I should do a giveaway!
Two, Yes TWO, blog readers will be drawn on April 1st to receive the same goody bag that all of my guests will be receiving!
Truly I wish I could give one to each and every one of you...but I am pretty sure the hubs would say no since it would break the bank!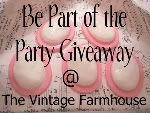 Copy and Paste Code
And just what will you be getting in this goody bag, you ask?
Four chocolate cameos, two in pink and white and two in blue and white.
Four French Macaroons wrapped in a glassine bag with a Tiffany Blue Ribbon
image from Google
image from Ebay




A hand poured French Script Vanilla Votive Candle
A mini paper Eiffel Tower
A muslin sachet filled with French Lavender, hand stamped by yours truly (sorry no pics of this item yet, waiting for my supplies to come in the mail)
1 yard of pink and white ruffled crepe paper
A mixed Cd with all of the party music
All topped off with a Marie Antoinette tag and "Let Them Eat Cake" Banner
and some ribbon and glitter for good measure!
Now here come the rules (sorry folks, of course there will be rules, but I still love you!)
2) Leave a comment on this post for one entry.
2) Blog about the giveaway for FIVE entries!
Just come back and leave another comment with the link.
3) Add my bloggy button above to the side bar of your blog for one extra entry (again come back and comment with the link)
4) Share the link to this giveaway on Facebook and leave another comment letting me know you did so for one entry.