Busy busy week here, between de-cluttering, working on the Darlin, and more

preparations

for the Spring Market, I've not had a lot of time to blog.
Our cards for the market came in

, this is the front side.
And here is the one for sharing online.
Can you tell I am excited even though it is still a few months away?
I feel so so very lucky to have so many amazing vendors signed up from all over the country!
Keep an eye out over the next few months for more info and our vendor list.
Ok, on to what you came here for
Creative Things Thursday!
Very pretty soft and romantic make over from
I am loving the pops of pink and turq

uo

ise in these painted

lovelies

from Shabbygipsy
A

n intercom speaker turned into an Ipod speaker! How cool!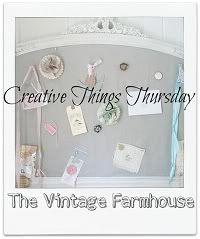 Link up to 3 of your creative projects, crafts, decor, food...I'm not picky. We're here to share and have fun!
Take time to visit others and share the love!
Let's get this party started!!