Just thought ya'll should know! I absolutely would not be here if it weren't for each of you. You, the readers, are what makes a blog, really and truly. Thank you for all of you for reading and commenting so often.
Now on to the daunting task of picking three features this week!
Looooooove each of these so so much. Thank you to everyone who linked up!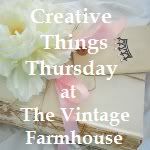 If you have been featured and would like a button: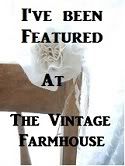 Link up to 3 of your creative projects, crafts, decor, food...I'm not picky. We're here to share and have fun!
Please take a minute to visit some of the other links and show some love!