Long story short....the last couple months have been a series of "anything that can go wrong, WILL go wrong"
I've missed you all so much and promise to try to keep up on here now that things are calming down!
It has been a few weeks since our last Creative Things Thursday Party so let's just jump right back into the swing of things.
I hope you will join in the fun and show some love to the participants!
Grab a button if you please!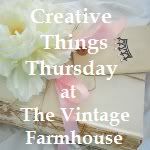 Up to 3 of your creative projects, crafts, decor, food...I'm not picky. We're here to share and have fun!