Bear with me here, this is about to be a wordy and picture full post!
First and foremost, you may have noticed I FINALLY got my domain rerouted to blogspot, so you can reach my blog by simply putting in www.thevintagefarmhouse.com now! Woohooo! One large step for this technologically challenged blogger!
My next step will be leaving Etsy and having a tab for my shop here on blogger instead. I've just not had the luck with Etsy that I used to.
I've got a new button to go with my blog. I feel as though it has a better "vintage farmhouse" feel than the old one. Please do feel free to nab it for your blog. ♥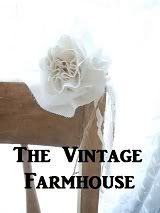 Click the link to read the interview.
came in a couple of weeks ago.
I was like a kid on Christmas morning...unwrapping it all and giggling!
Also I am in the *very* early stages of planning our Spring Yard Sale/Market...I know, it's not even winter yet, heck it's barely fall, and I am thinking of Spring already!
But I hope with early planning there will be great success. Same deal as before if you want booth space it is $25 but includes unlimited space in the yard!
There is a widget in my side bar to RSVP.
Hope you all have a lovely weekend!